The National Association of Realtors® reports that, even with homes selling more briskly than at any time since July 2013, transactions for existing homes slowed in April but sales still measured above an annual sales pace of five million for the second consecutive month. Every major US region -- the Midwest was the sole exception -- saw sales declines in April. Sales of existing homes in April (which tracks completed transactions for single–family homes, townhomes, condominiums and co–ops) fell 3.3 percent to a seasonally adjusted annual rate of 5.04 million from an upwardly revised 5.21 million in March.
Nevertheless, even with the monthly reduction, sales have grown year–over–year for seven months in a row and remain 6.1 percent higher than one year ago.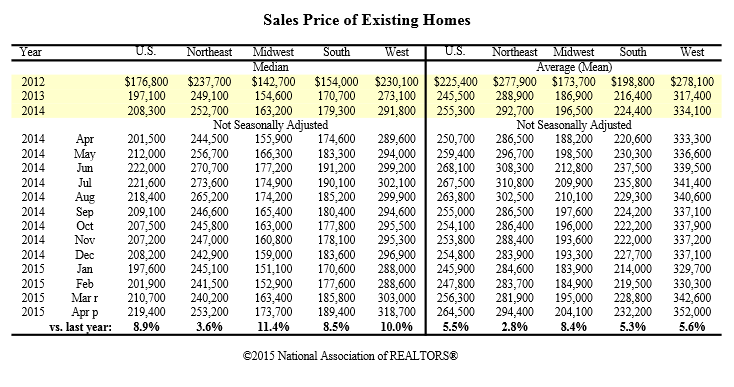 NAR's chief economist, Lawrence Yun indicated that sales in April did not measure up with the strong gains observed in March. According to Yun, "April's setback is the result of lagging supply relative to demand and the upward pressure it's putting on prices." Yun added, "However, the overall data and feedback we're hearing from Realtors® continues to point to elevated levels of buying interest compared to a year ago. With low interest rates and job growth, more buyers will be encouraged to enter the market unless prices accelerate even higher in relation to incomes."
Total housing inventory at April's conclusion grew 10.0 percent to 2.21 million available existing homes.
Unsold inventory sits at a 5.3–month supply at the current sales pace, higher than the level of 4.6 months seen in March.
April's median price for existing homes (all home types) was $219,400, or 8.9 percent higher than April 2014. This is the 38th month in a row of year–over–year price growth, and it's the most significant since January 2014 (10.1 percent).
Due to home demand significantly outpacing supply, properties sold in April more briskly (39 days) than at any time since July 2013 (42 days).
Sales to first–time buyers in April remained at 30 percent for a second consecutive month. This is extremely similer to April, 2014, when first–time buyers generated 29 percent of all transactions.