Existing-home sales dropped in January despite rising prices caused by low inventories, according to a recent report by the National Association of REALTORS (NAR). Existing-home sales, which include recently purchased single family, townhomes, condominiums, and co-ops fell 5.1 percent in January to a seasonally adjusted 4.62 million units for the year.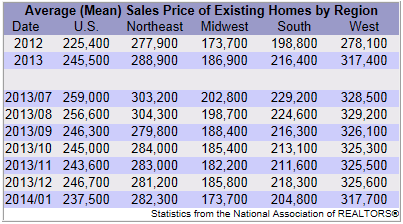 NAR chief economist Lawrence Yun faulted weather for some of the slowdown. "Disruptive and prolonged winter weather patterns across the country are impacting a wide range of economic activity, and housing is no exception," he said. "Some housing activity will be delayed until spring. At the same time, we can't ignore the ongoing headwinds of tight credit, limited inventory, higher prices and higher mortgage interest rates. These issues will hinder home sales activity until the positive factors of job growth and new supply from higher housing starts begin to make an impact."
Nationally, the median time for homes to sell was 67 days in January, a decrease from 72 days for December. Thirty-one percent of January home sales were on the market for less than a month.