According to the National Association of Realtors®, sales of existing homes grew slightly in February, but limited inventory moved price growth to the fastest pace seen in a year. Total existing-home sales, (which tracks completed transactions for single- family homes, townhomes, condominiums and co-ops) increased 1.2 percent to a seasonally adjusted annual rate of 4.88 million in February, up from 4.82 million in January.
Sales were 4.7 percent above a year ago; additionally, sales were higher than year-over-year totals for a fifth consecutive month. The median price for existing homes for all housing types was $202,600 in February, which is 7.5 percent higher than February 2014. This represents the 36th consecutive month of year-over-year price increases, and it's the biggest gain since last February (8.8 percent).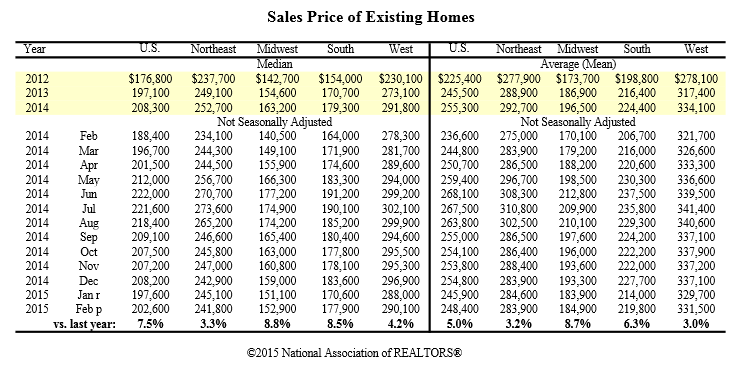 NAR's chief economist, Lawrence Yun, said that while February sales displayed slight improvement, in recent months the market has seen some stagnation. Said Yun, "Insufficient supply appears to be hampering prospective buyers in several areas of the country and is hiking prices to near unsuitable levels." Yun added that, "Stronger price growth is a boon for homeowners looking to build additional equity, but it continues to be an obstacle for current buyers looking to close before rates rise." Yun also noted that, "Severe below-freezing winter weather likely had an impact on sales as more moderate activity was observed in the Northeast and Midwest compared to other regions of the country."
Total housing inventory at the end of February rose 1.6 percent to 1.89 million existing homes available for sale, but this remains 0.5 percent lower than a year ago (1.90 million).
Listings remained on the market for 62 days in February, a reduction from 69 days in January and the same as a year ago. Short sales stayed on the market the longest at a median of 120 days in February, while foreclosures closed in 58 days, and non-distressed homes sold in 61 days.